You can not select more than 25 topics
Topics must start with a letter or number, can include dashes ('-') and can be up to 35 characters long.
README.md
How to monitor a VMware vSphere Environment using Telegraf, InfluxDB and Grafana
Once you import the Grafana Dashboards on your Environment, it should look all like these:
VMware vSphere Overview Dashboard
VMware vSphere Hosts Dashboard
VMware vSphere Datastores Dashboard
VMware vSphere VMs Dashboard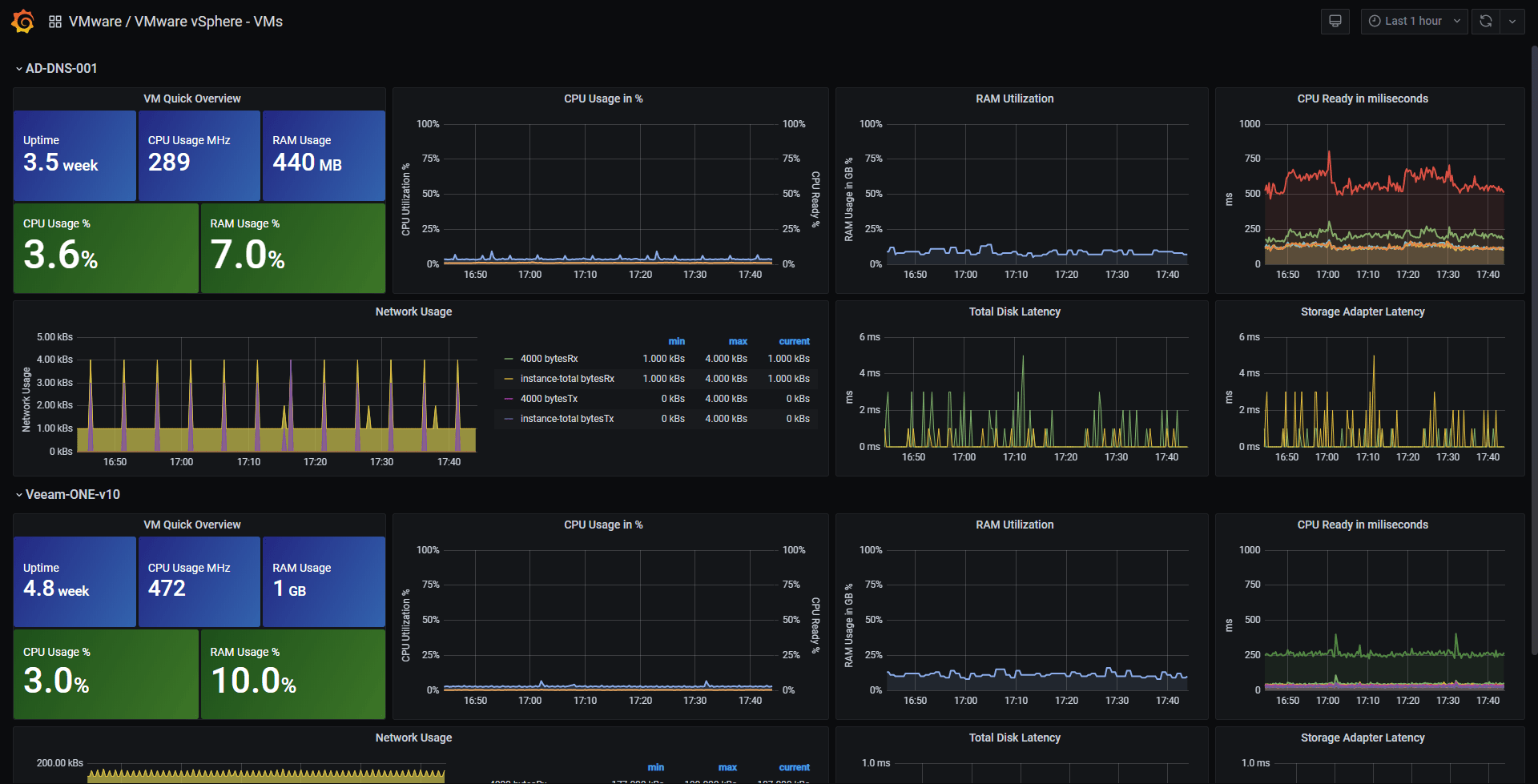 ---
Getting started
You can follow the steps on the next Blog Post in English - https://jorgedelacruz.uk/2018/10/01/looking-for-the-perfect-dashboard-influxdb-telegraf-and-grafana-part-xii-native-telegraf-plugin-for-vsphere/
But in case you want a quick bullet point list:
Make sure you have Telegraf v1.8.0 or above, then read about the vSphere Plugin here - https://github.com/influxdata/telegraf/tree/release-1.8/plugins/inputs/vsphere
Edit the vSphere Plugin and add your vCenter IP or FQDN, user and credentials, and enable the sections you want to monitor or exclude from your vSphere.
Restart the Telegraf service
Download the VMware vSphere Grafana Dashboards JSON filee and import them into your Grafana
Enjoy (:
---
Additional Information
This repository it's just intended to provide the Dashboard json files and some help
---
Legacy steps for PowerShell Information
This project consists in two Powershell scripts by Mike Nisk - https://github.com/vmkdaily to retrieve the vSphere information and send it directly to InfluxDB, then in Grafana: a Dashboard is created to present all the information.
Getting started
You can follow the steps on the next Blog Post in Spanish - https://www.jorgedelacruz.es/2017/06/12/en-busca-del-dashboard-perfecto-influxdb-telegraf-y-grafana-parte-vii-monitorizar-vsphere/
But in case you can't read Spanish:
Download the Scripts from the official repo https://github.com/vmkdaily/vFlux-Stats-Kit to the computer you want to run the Scripts periodically
You should have VMware PowerCLI on this machine
Edit the Scripts and add your InfluxDB IP or FQDN, InfluxDB users and Database, logging, etc.
Run the Scripts to check that you can retrieve the information properly
Schedule the Scripts in Windows to run every X minutes, where you decide the X
Download the VMware Stats Grafana JSON file and import it into your Grafana
Change your inforamtion inside the Grafana and enjoy :)
VMware vSphere Overview Dashboard using PowerShell